2.15.2009
Many of you know that I adore books. If you don't, you do now. Honestly, I shouldn't really have time to read, considering all that is going on in my life, but I tend to bend and sacrifice to have time to read. I've decided to put up a thing on the side of this that says what I am currently reading, because I know you are SO interested, but I also wanted to talk about one of my favorite authors. Currently I am reading two of his books, and am so excited every time I pick one up. I keep trying to read slowly and savor them; I never want them to end. They are Neil Gaiman's "The Graveyard Book" and "Fragile Things".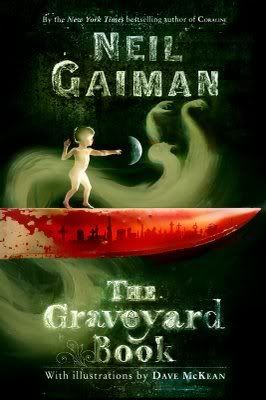 First up - "The Graveyard Book". This is a collaboration of Neil Gaiman's literary genius and Dave McKean's stellar, amazing illustrations. If you've read any of the Sandman graphic novels, or have seen the movie "Mirrormask", you have had the privilege of seeing their work. This book is written for the younger generation, but is so wonderful that I think everyone should read it. It was recently recognised with a Newberry Medal, which, as you know, is the highest honor a children's book can receive. I am about halfway through, and the illustrations and characters are so rich and intriguing that I can't help but express how much I love it to all of you. I also want to mention the new movie "Coraline", which I absolutely loved. The original book was written by Neil Gaiman several years back, and it's quite good, as is the movie. I hope to high heaven that they make a movie of "The Graveyard Book". Here's the Amazon link to it (
LINK
), and you can click the picture on the right for a better view of the gorgeous cover.
Secondly - "Fragile Things". I haven't even started this book yet. I bought it right after Christmas, and have been waiting for the perfect time to read it. This book is a collection of short stories by Neil Gaiman. Many of them have won awards. I have recently become a huge fan of short stories, thanks to Ray Bradbury (that is all for another blog, however). Today, I read the introduction to "Fragile Things", which is several pages long, and talks about each story/poem, and how they came to be in this compilation, and the author's opinion/view of the story and its origins. I can already tell it's going to be amazing, and have butterflies in my tummy just thinking about it. Ditto with Amazon (
LINK
) and larger picture.
Here's a list of my favorite authors/poets, in no particular order:
-Sharon Shinn
-Ray Bradbury
-Juliet Marillier
-Neil Gaiman
-Jennifer Fallon
-Gregory Maguire
-Walt Whitman
-Sara Douglass
-Billy Collins
-Patrick Rothfuss
Any if the books or poems these folks have written, I love, completely and absolutely. I highly recommend them. I also always have book recommendations, so let me know if you'd like some.